Setting up a Social Listening programme
What is social listening?
Online conversations are happening around the world at a relentless pace. While many are private, like Whatsapp chats and gated posts, others are published as public content – like the posts in a forum or a Facebook comment on a news update.
Brands often get a skewed idea of what customers think of them, mainly because people are generally reserved or apathetic. Social listening enables us to listen in to these public conversations, understanding what they truly think as they talk, gossip, argue, complain and compliment about your brand online.
Three steps to get started
Define a set of keywords
Social listening uses keywords to filter out the gems from the overwhelming content out there. To have quality outcomes, this is important to start on the right foot.
Subscribe to a listening tool
There are many social listening tools and services to choose from, from beginner-friendly ones like Buzzsumo to enterprise-grade platforms like Meltwater.
Build alerts and reports
Once the foundational is ready, it's time to turn raw online content into categorised, useful insights. You can build automated reports, too!
Define a set of keywords
Let's run through how we can set up social listening for an Italian pizza chain. We'll call them… "Pizza Mutt", which has a dog-faced mascot. Now Pizza Mutt is in a very competitive market with authentic Italian eateries, chain restaurants, streetside takeaways and fine dining establishments.
The first thing Pizza Mutt does is to set aside the keywords "pizza", "dining", "restaurant" and other business-related keywords. As you can guess, 99% of the content picked up is probably irrelevant.
To do this better, we dive deep to understand that Pizza Mutt competes in the space of authentic Italian restaurants. Now, we can pick better keywords, like "magherita pizza", "wood-fired oven" and (this is important)… potential risk issues like "Pizz Mutt+poor service", "Pizza Mutt+scandal" and "Pizza Mutt+food poisoning".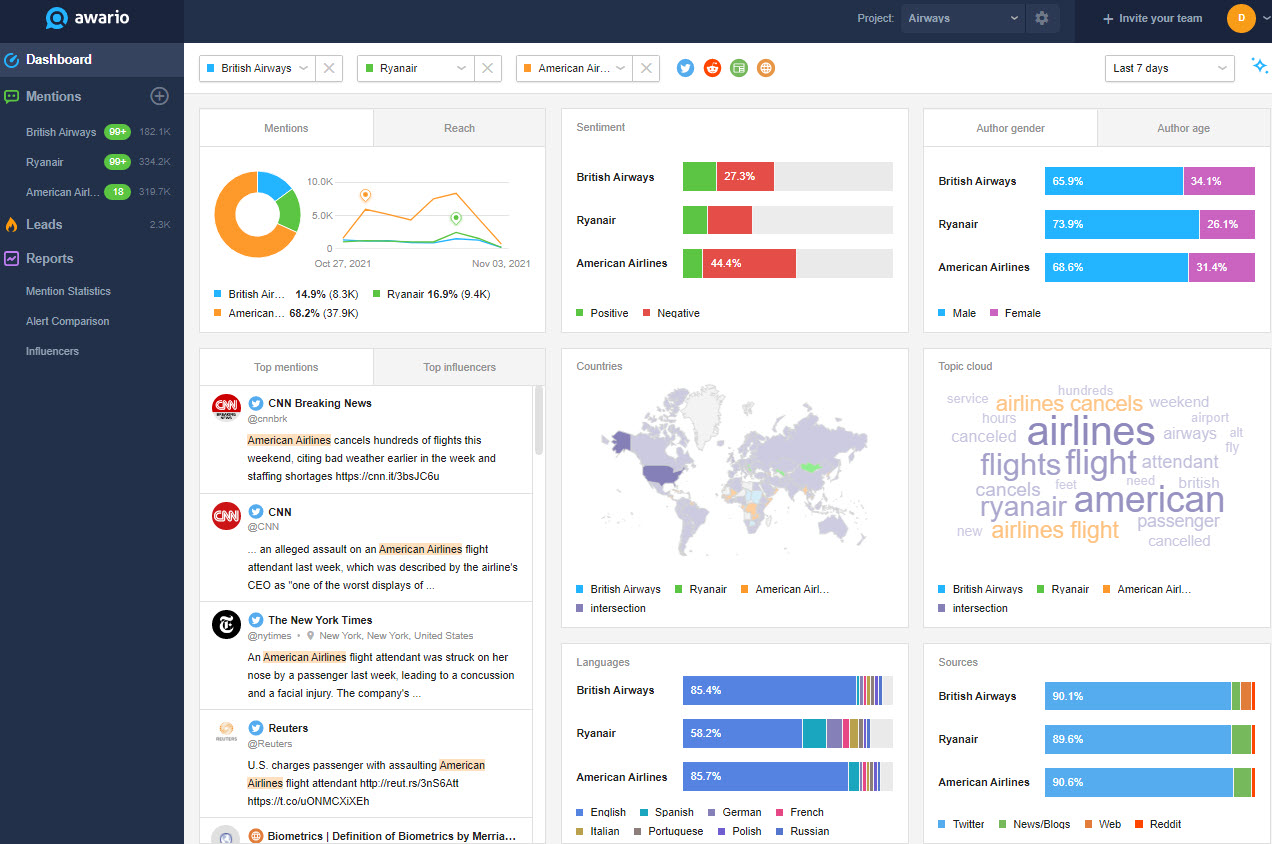 Subscribe to a listening tool
Since Pizza Mutt is a small business with limited resources, I'll recommend going with Awario. They have limited features but are perfect for a brand just starting to explore this exciting world of social conversations and online research.
Once the platform is selected, simply sign up for an account, pay $24 per month for 30,000 mentions, and start putting keywords into the system.
Build alerts and reports
Finally, you can expect useful insights and real-time alerts once you begin configuring the system properly. Reports are usually in the form of an automated dashboard, but you can also export data in a spreadsheet to classify and pivot your own data points.
At the same time, you can also enable email and in-app alerts to escalate potential risk events. That's why you're here in the first place, right?
Use our Social Media Risk Calculator to find out your Risk Exposure Score.
Let's Chat About Your Social Media Risks